Account Manager (Nicosia, Cyprus)
Ref.
1469
Nicosia
Posted on 10/07/2018
3CX is looking for an Account Manager to cover our Australian and Asian markets. The main responsibility is to prospect for new partners and build relationships with our channel partners. If you're up for a challenge and want to be a part of one of the fastest growing PBX vendors globally then apply today.
About the 3CX team:
3CX's sales team is a global, multicultural and highly motivated team who take pride in ensuring consistent growth. The team's key role is developing and maintaining relationships with our 10,000 channel partners worldwide by providing them with the tools to sell and support our 50,000 customers around the globe.
About the Job:
- Identify, research and engage new partnerships under the guidance of the Channel Sales Manager.
- Handle day-to-day requests and queries from partners & distributors.
- Support the onboarding of new partners by the Channel Sales Manager.
- Provide information and guidance with regard to 3CX products.
- Deliver sales web meetings and trainings, as required, responding to questions and queries as raised to support ongoing partner development.
- Follow up new partner leads.
- Working hours are from 5:00-13:30, Monday to Friday.
About the Applicant:
- Bachelor's Degree
- Channel Sales experience (selling via VARs)
- Team player, able to forge strong working relationships across the business.
- Dynamic and forward thinking with high energy and drive.
- Prepared to be hands on to achieve a common goal.
- A minimum of 2 years experience within a telephone based sales role.
- Knowledge and passion for IT, telecommunications and technology.
- Proven track record against sales targets and KPI's.
- Fluent in English, both verbal and written communication skills
- Good presentation skills, confident to deliver group sales presentations
How to Apply:
Please send your CV along with a cover letter explaining why are you interested in this role to jobs@3cx.com. We only accept applications that are sent to this email address.
State the position you are applying for in the subject line of your email, if you fail to do so your application will be disregarded.
Please note that only successful candidates will be contacted.
Apply Now (Send Your CV) Send Email to Employer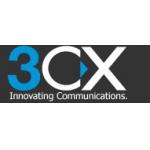 Contact Person
Cristina Postasa
Email: marketing@3cx.com
Phone: 22444032
Fax: 22444033
Website: www.3cx.com